Web DESIGN + DEVELOPMENT
Meet Hari, author, speaker, and founder of the Bhagavata-sevaya School of Yoga.
About Hari:
Hari-kirtana das is the author of In Search of the Highest Truth: Adventures in Yoga Philosophy. He's on the faculty of numerous Yoga Teacher Training programs as well as the leader of his own Bhagavata-sevaya School of Yoga. As a public speaker, Hari's clients include Capital One, among others.
Hari blends ancient yogic philosophy with critical thinking, meaningful dialog, and a sense of humor to help people live richer, more fulfilling spiritual lives.
About the project:
Hari needed an online hub for his latest endeavors: blog posts, book releases, yoga teacher trainings, webinars, in-person classes, 1:1 mentorships, and more. He also needed a contact page to book speaking engagements and an events calendar.
The challenge was to design a simple, user-friendly platform that makes navigating the breadth of Hari's work as intuitive and user-friendly as possible.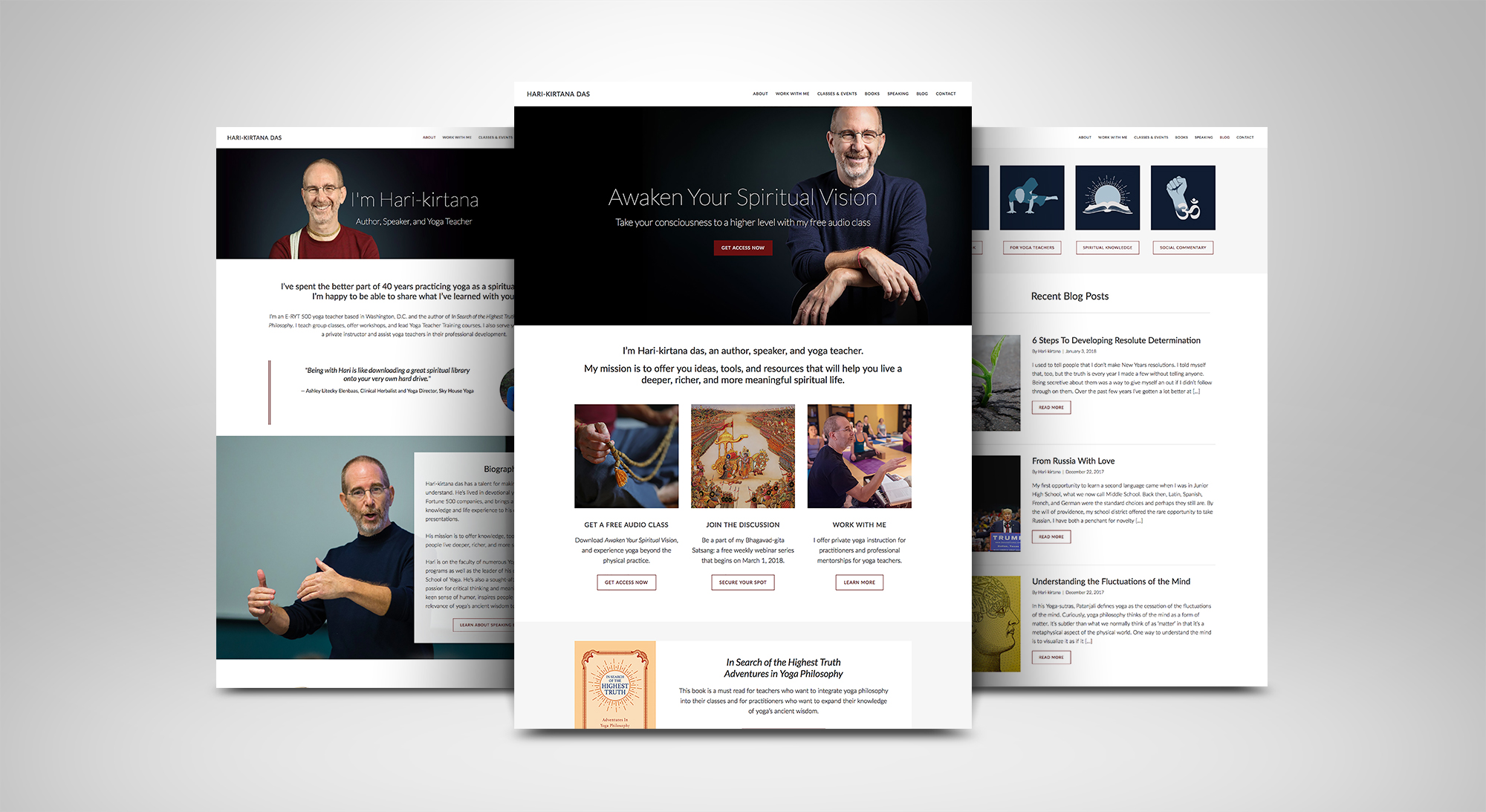 The results:
Hari is passionate about bringing ancient yoga wisdom to the modern world. To communicate this visually, I designed a site with geometric lines and image-rich layouts that reflect Hari's brand and personality. I also incorporated clear headlines and plenty of white space on each page to make sure that his content is easy to read and digest.
The end result is a clean, user-friendly site that serves as an authority on all things Hari-kirtana das and helps make ancient spiritual wisdom accessible to a modern audience.
"I can't believe I have a website that looks this good. Cami exceeded my expectations with such regularity that the challenge in telling my colleagues about her is in telling them how much they'll get without ruining the surprise."
— HARI KIRTANA-DAs
I'm Cami, and I'm on a mission to help "real deal" entrepreneurs like you swap out their outdated or barely-there websites for a digital presence that reaps dazzling rewards (and results).
Over the years, I've had the honor of changing the game for award-winning photographers, authors, speakers, coaches, consultants, and so many more.
Interested in adding your brilliance to that list? Our work together can start today.
Book a call below or click here to view services.